Current Events:   
- Keystone Ford Drive 4UR School Event will be on 3/17/2018 from 9am - 2pm at the big parking lot across from the Chambersburg High School.  Up to $6000 raised for individual boosters, the boosters invite friends and relatives to drive a new Keystone Ford vehicle and receive $20 per drive.  This is a non sales event that is strictly for the community/school.

- Keystone Ford Jeans For A Cause 2018 1st Quarter charity. This quarter our employees will be permitted to wear jeans on Fridays & Saturdays for a quarterly fee. The proceeds will be donated to Camp Joy El. Joy El's focus since 1974 has been to provide opportunities for people to experience life-change through encounters with God by providing day camps, weekend retreats and leadership
training programs as well as summer youth camps and winter youth retreats.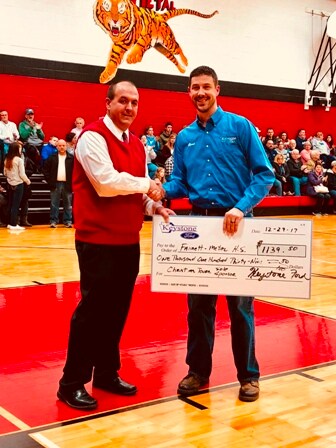 Keystone Ford is proud to be the sole sponsor of the 2017 Christmas Tournament at Fannett-Metal High School.
 Supporting and working with the important local communities representing these schools (Fannett-Metal, Shalom Christian Academy, McConnellsburg, and Maryland School for the Deaf) is very important to Keystone Ford and we would like to thank all our Customers and Fans for their support.  Thank you again from Keystone Ford! 
Merry Christmas, Happy Holidays, and a safe and prosperous New Year !